Wouldn't it be nice if dog training worked like dog grooming. Just drop your dog off and pick him up when he's done. With our guaranteed Board and Train program, that's exactly how it works.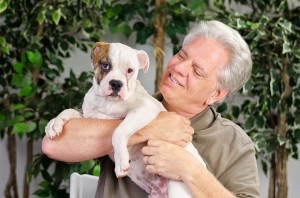 With our premier 3 week program, your dog stays at our beautiful, state-of-the-art training center while we train him for you. This is a perfect solution for today's busy families.
Our program includes all the basic obedience commands along with a very effective approach to problem solving. Jumping on people, play biting, destructive chewing and nuisance barking are all effectively dealt with in this program.
During our 3 week program, your dog will also learn to walk much more politely on the leash. This is a very common issue among our clients, and we work with it daily.
At the end of the dog's training, you'll be given three handling lessons. Think of these lessons as management training for dog owners. The purpose of the lessons is to ensure that your dog listens to you as well as he does to us. Attending your three lessons as originally scheduled is mandatory. We are not able to reschedule lessons.
The bottom line? At the end of this program you really will have a better dog.  We're so sure of it that we guarantee it. We offer an absolute, money back guarantee on all of our training. Every trainer tells you you're going to have a better dog at the end of the training. The difference is, we really mean it.
The fee for this program is $2,900 ONLY $2600 through September 30.
---
More than one dog?
We specialize in multi-pet households. Ask about our multiple dog discount.
---
With this program...
timid dogs become more self confident
aggressive dogs become more manageable
housebreaking issues are solved
poor leash manners are eliminated
dogs learn to come when called
dogs become more polite, especially with children
dogs quit jumping on guests
Get Your Dog Started
Simply fill out this form and our head trainer will get back to you to answer any questions and get everything ready for your dog to begin the training program.
Autumn Sale!
Save $300 on Your Dog's Training!
---
Pay by midnight on September 30 to save $300 off of our normal price.
If you've ever thought about having your dog trained, this is a wonderful time to do it.
Got questions? Give us a call. We'd love to talk about what we can do for you and your dog!
---
Offer not valid in combination with other discounts.