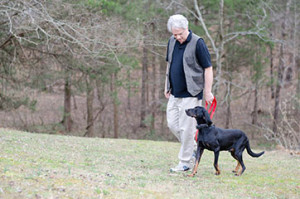 Much has changed over the last six months. To begin with, we have a new name! For years, we've wanted to name the kennel after the creek that runs through our property. Being shutdown for a few months and reinventing ourselves for the "new normal" provided the perfect opportunity.
The Mister Obedience Dog Training Center is now New Hope Dog Training Center. Mister Obedience (that's me) is still here. It's just a name change. But, it's a name change that better matches this beautiful property and what we do here.
In addition to the name change, we've made some other changes to protect people's health. Most importantly, all of our lessons are now being held outdoors and/or via zoom.
We've also reduced the number of dogs (and families) we work with each month. Each month we offer one program, which is limited to 5 dogs.
One thing that hasn't changed is that we still provide some of the best dog training in the Triangle. I'm personally doing all of the training and giving all of the lessons.
Check out our dog training page for more details or get in touch today.
Gene Lonsway
Owner and Senior Trainer
New Hope Dog Training Center